Jean Genet, Our Father of the Flowers
Dalila Ennadre
France, Morocco | 2021 | 60 min
International Premiere
Languages : Arabic, French, English, Spanish
Subtitles : English, French
Jean Genet spent the last ten years of his life in Larache, Morocco. He was buried in the Spanish cemetery facing the sea and the local prison. Dalila Ennadre, who died in May 2020, faithfully filmed the people who continue to visit the poet whose memory reigns over this sun-scorched place, and where they come to find some inner peace.
Doha places flowers on the grave of Jean Genet in the cemetery facing the sea, which his family looks after. We are in Larache, where the writer chose to spend the last days of his life, among the "convicts of [his] race", from the Black Panthers to the Palestinians whose struggles he had intimately espoused. Genet's voice(-over) continues to hover over this windy sun-scorched place, while the camera welcomes passing visitors who have come to find some inner peace on the whitewashed stone. It then widens the frame, slips in among the fishermen of the port – the former much-loved haunt of the 'jailbird' – and comes to a halt in front of the gates of the prison neighbouring his last home. The words of today's prisoners resonate powerfully with those of the poet, and bear witness to the immutable condition of the wretched of the earth. Jean Genet, Notre-Père des Fleurs is the last film of Dalila Ennadre, who died in May 2020. A magnificent tribute to the man who was "a rebel, a poet, and free until his death, until the sea" and to the people who honour his memory.
Emmanuel Chicon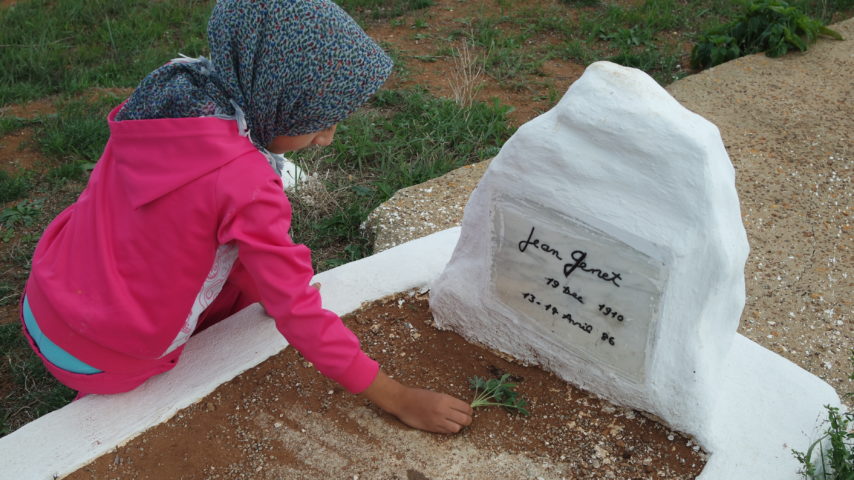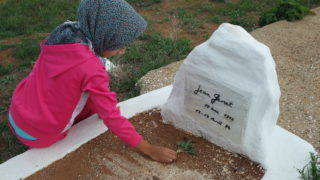 Watch this film in cinemas
From 14/04/2022 18:00 to 17/04/2022 18:00
If the player doesn't play, you don't have the right accreditation/pass
Disclaimer
The films are geoblocked and may only be watched from Switzerland. They are rentable during 72h and a playback of 4h. As you've started this film, you have now 4h to complete your screening.
The use of recording devices, cameras or cell phones, as well as any attempt to download the films is strictly prohibited. All films are imprinted with forensic and visible watermarking to trace illegal recordings. We thank you for supporting and protecting the work of the filmmakers.

Visions du Réel team
Production
ENNADRE Lilya
LAYA PROD
CHRAÏBI Lamia
LA PROD
Sales contact
ENNADRE Lilya
LAYA PROD
frontieres@hotmail.com
+330680633965