Adam Ondra: posunout hranice
Jan Šimánek & Petr Záruba
Czech Republic, Italy | 2022 | 77 min
World premiere
Languages : Czech, English
Subtitles : English, French
Adam Ondra is the best. Born in 1993, the Czech climber has broken a series of records and is widely recognised as the most accomplished in his discipline. No mountain or wall can resist him. But who is this young man who knows no fear and never seems to encounter failure? Jan Šimanek and Petr Záruba deliver an intimate portrait, beyond the usual sensationalism of sports headlines.
Screening in the presence of Adam Ondra, on April 11th at 3:30pm, Grande Salle
Adam Ondra is a living legend. A master among climbers, a record-breaker who "flashes" the most complicated mountains, a virtuoso of rocks and walls, his fame is unquestionable and his talent an inspiration and a true gift from nature. Haunted by the idea of always going further, his life is marked by training and the exploration of new paths – always more complicated, always more satisfying. Alongside him is Iva, his girlfriend, a professional of the same discipline and an attentive and caring companion. Thanks to the sharp eyes of Petr Záruba (director of the delicate Traces of a Landscape, VdR 2020) and Jan Šimanek, Adam Ondra:, Pushing the Limits reveals a close-up of a man who is one with his passion. The elegance of his movements – astonishingly similar to dance – and his contagious smile are captured by the camera with both admiration and intimacy. The editing of the film, drastically rejecting the frenzied rhythm of classical sports documentaries, offers us a glimpse into the daily life of a young man who becomes extraordinary as soon as he touches a rock.
Rebecca De Pas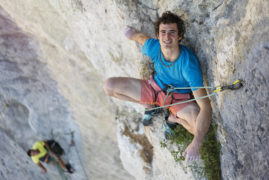 Watch this film in cinemas
From 13/04/2022 18:00 to 16/04/2022 18:00
If the player doesn't play, you don't have the right accreditation/pass
Disclaimer
The films are geoblocked and may only be watched from Switzerland. They are rentable during 72h and a playback of 4h. As you've started this film, you have now 4h to complete your screening.
The use of recording devices, cameras or cell phones, as well as any attempt to download the films is strictly prohibited. All films are imprinted with forensic and visible watermarking to trace illegal recordings. We thank you for supporting and protecting the work of the filmmakers.

Visions du Réel team